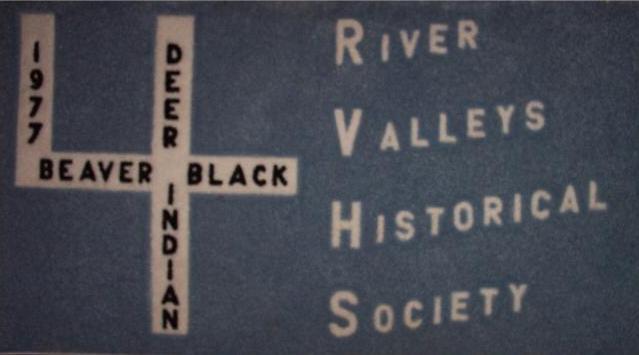 The 4 River Valleys Historical Society is based in Carthage, New York. Our mission is to interpret, preserve, collect and make available evidence of the past and to further understand and appreciate the prehistory and history of the areas of the Beaver, Black, Indian and Deer River Valleys.
Organized in 1977, the society averages over 600 members. We have published several books which are now available on this web site in Items for Sale. Some of our holdings include Trinity Chapel, the first Champion one room school, the Jefferson County Fairground Ticket Booth, the Woolworth Memorial Church and the Hiram Hubbard House. Click on the pictures at the right to learn more about these buildings.
Carthage lies on the border of Lewis County, so the society covers part of Lewis as well as the western townships of Jefferson County. This area includes parts of the townships of Theresa, Philadelphia, Antwerp, LeRay, Wilna, and Champion. Our 21 directors represent the various communities within the area. The Society collects material from the three school districts: Copenhagen Central, Carthage Central, and Indian River Central School Districts.
---
Shamrock Royal Tour - 12 Day First Class Coach Tour of Ireland
September 25 - October 6, 2015
Cost per person ... Double $3399.00, Single $4099.00, CAD$
2015 flight itinerary on Air Transat is as follows ... depart Toronto at 10:40 PM, arrive Dublin at 10:05 AM, non-stop. On return, depart Dublin at 9:00 AM, arrive Toronto at 11:30 AM, non-stop.
Tour inclusions ...
Return transportation to the Toronto Airport

Overnight flight to Ireland

Transportation throughout by modern touring coach

Services of an experienced driver/guide

10 nights accommodation in first class hotels

All rooms ensuite

10 full Irish breakfasts

6 table d'hote evening meals in hotels

Welcome drink on arrival

Guided tour and dinner Crumlin Road Gaol, Belfast

Dinner and entertainment Quill's Farmhouse, Muckross Park

Farewell dinner and entertainment in Dublin

Admissions to ... Battle of the Boyne Visitor Centre; Belfast City Hall; Titanic Belfast; Old Bushmills Distillery' Giant's Causeway Centre; Belleek Pottery' Ballintubber Abbey; Cliffs of Moher; Kingdom of Kerry Museum; Kissane Sheep Farm; Cahir Castle; Dunbrody Famine Ship; Waterford Crystal Centre

Bus transfers to'from Giant's Causeway

Baggage handling charges at all hotels on 1 only piece of luggage

Service charges and local taxes
For more information or to register, contact Nelson Eddy, 31571 Peck Road, Black River, New York 13612, 315-773-5133.
---
Annual Meeting
On June 18th 4 River Valleys Historical Society will hold its Annual Meeting with a special presentation of the new book Stone Houses of Jefferson County. There will be a book signing by the authors/editors and photographer at the Hiram Hubbard Homestead from 6 to 7, followed by a covered dish supper at Champion Grange Hall. The meal will be followed by a meeting and program on the new book.
The editors and photographer of Stone Houses of Jefferson County (Syracuse University Press, 2015) will give a slide talk about their five-year project documenting some of our local stone buildings. With the help of Town Historians, they uncovered a rich concentration of stone buildings - about 250 remain of the 500 built before 1860. With the buildings came diaries and stories. Join us to tell your stone house story and help us preserve our architectural bounty.
The public is invited to attend any or all portions of the evenings events.
The cost of the hard covered book with many color photos is $50. If you would like to order a signed copy to be sent to you, add $5. For questions, or to preorder a book contact Lynn at 315-493-3213.
---
Hiram Hubbard House

The 4 River Valleys Historical Society has acquired the Hiram Hubbard house in Champion, NY. Mr. Hubbard was a founder of Champion. Descendents of his family presented the deed to the beautiful fieldstone house to the historical society on November 15, 2005. This acquisition also includes 8.02 acres at the Hubbard site. There are plans for a reference room and an education room. Donations may be made in memory of or in honor of a friend, relative and/or loved one. 4RVHS member Lynn Thornton has composed a web page describing the house and giving some history on it. Click here to learn more.

Pre-order your collectable Hiram Hubbard Homestead Ornament from the 4 River Valleys Historical Society. Download the order form here.

---

The 4 River Valleys Historical Society is making available the Jefferson County Bicentennial Tapestry Throw, 1805 CELEBRATING 200 YEARS 2005

. Click here to read more about this beautiful tapestry or to order it on-line.

---

Books

Champion, Great Bend and Deferiet

Lynn Thornton is the town of Champion historian, Board Member of 4 RVHS and a retired West Carthage elementary schoolteacher. She has partnered with Janet Zando, a charter member of the 4RVHS and Village of Deferiet historian to bring you the history of Champion, Great Bend and Deferiet. Janet is a registered Dental Hygienist and is currently employed part-time at the North Country Children's Clinic.

Janet and Lynn hope that this new look at

the three communities that grew around the turn of the century will shed some light on the connections between them. There are many people who have relatives in two of the villages, some who lived in one and worked in another, people who moved away but retain a fierce connection with their old community – sometimes the farther away we move, the stronger the pull of our roots. We hope it will bring people closer to their origins by providing a common ground for discussion, sharing of memories and appreciation of their heritage

Find out more! You may purchase an autographed copy through 4 River Valleys Historical Society in person or by mail or you may attend one of the many book signings planned throughout the area. Click here to download the order form.

---

Waterfalls of New York State

Although not a book on history, "Waterfalls of New York State" contains entries about several waterfalls in the north country. It was co-authored by Watertown native David J. Schryver. Schryver is also the webmaster of the 4RVHS website. This book can be purchased at the 4 River Valleys Historical Society or at many of their events. You can learn more about this book at nnywaterfalls.com.

Around Carthage and West Carthage

by Lynn Thornton

You may purchase an autographed copy of Lynn's book ... click here to download an order form.
---
Building Maintenance Fund Raising
Click here to find out more about the 4 River Valleys Historical Society fund-raising program.
---
Counter reset on


2/8/2010