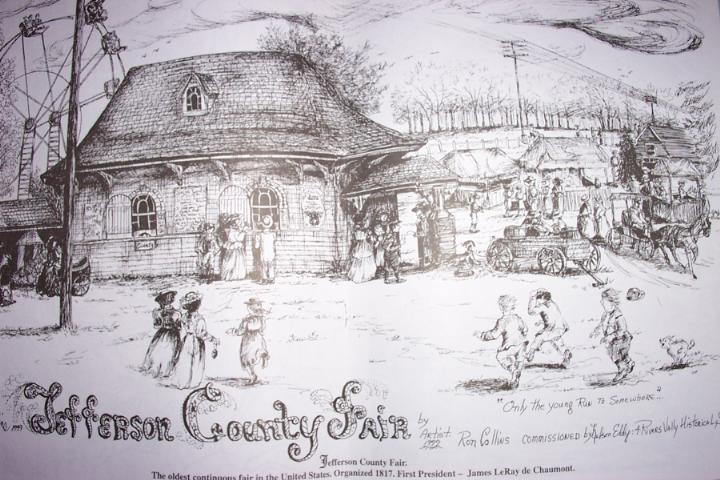 The 4 River Valleys Historical Society Board of Directors has created a building maintenance plan and we need your help to get it kicked off. The program is designed to complete a designated amount of work on each of our buildings per year. Maintenance/repair work costs money and time and the Board of Directors are hoping that you will assist us with this program by making a donation and/or volunteering your time. Below you will find each building listed with the repairs/maintenance that needs to be completed. You may choose how your money donation and/or time is to be put to work.
DONATIONS ARE ELIGIBLE AS A TAX DEDUCTION. 4RVHS IS A NOT FOR PROFIT ORGANIZATION UNDER 501(c)3 OF THE INTERNAL REVENUE CODE.
Mr. Ron Collins has donated a (Circa 1920) pen and ink drawing of the ticket office at fair time and we have made prints of the picture (pictured above). Anyone donating $100.00 or more will receive a copy of this print. It will make a great addition to your art collection.
We hope you will help with our efforts to preserve heritage and history of the area by donating money and/or time to the building maintenance projects.
A downloadable form is available here
. Please complete the form to designate your area of interest and/or the project that you would like to assist us with. Please make checks payable to 4RVHS, and mail to : 4 River Valleys Historical Society, P.O. Box 504, Carthage, NY 13619.
Sincerely,
Nelson F. Eddy, President